History in the Re-Making: Designing Harwelden
Perched on the edge of a chimney, looking out across Riverside Drive and the Arkansas River, is a small stone gargoyle. For nearly a century he has watched as the seasons and the city change around him, secure on his ledge come what may. To most, his very existence is an oddity. When people think of Oklahoma, it's more dust and tornados, not gargoyles and Gothic architecture.
However, in the early 20th century Oklahoma became the epicenter of an economic and resource boom. The discovery of crude oil, the black gold that runs the world, morphed Indian Territory and a little frontier town called Tulsa, into a wealthy boomtown overnight. In the early days following statehood, the city began to take shape, and so did the unique architecture that now dots the landscape.
Tulsa is internationally known for its ornate and beautiful art deco buildings, but if you travel far enough south down Main Street, you will run into a small stone gargoyle. He is sitting where he has always sat – just east of Riverside Drive, and north of The Gathering Place. Adorning the chimney of one of Tulsa's greatest architectural treasures: the Harwelden.
A Brief History 
Plans were drawn in 1922 by Kansas City architectural firm, Wight and Wight and construction was completed in 1923. Harwelden was the first, and remains, "Tulsa's most distinguished and finest example of English Tudor-Collegiate Gothic architecture"1 captivating our attention for generations. Earl Harwell, a wealthy oilman, and philanthropist had the home built as his family residence.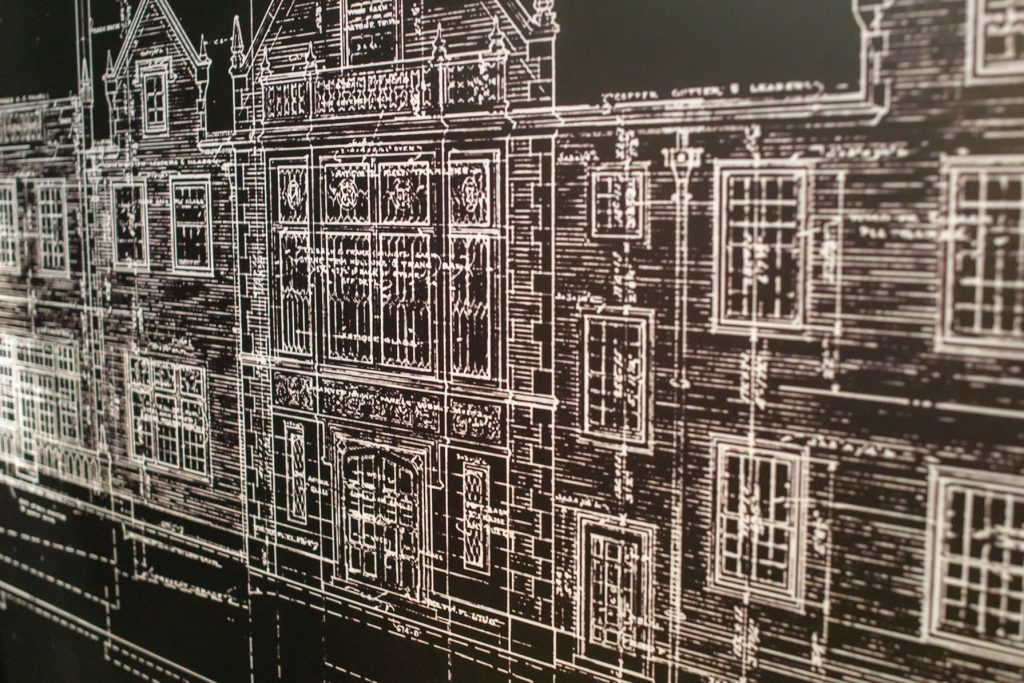 For over four decades the estate served as the family home, until in 1967 when the family donated the property to what was then the Arts Council of Tulsa (now ahha). The next several decades saw the transformation of the Harwelden from a family home to the center of the arts in Tulsa, at one point hosting the Tulsa Ballet and Philharmonic.
In 2017 the ahha made the decision to put the home on the market as they began their transition to their new facilities in the Tulsa Arts District. Entrusted with the sale of the property was McGraw REALTORS®, more specifically our Head Broker, Rodger Erker. At the time, McGraw chairman John Woolman said, "We are honored to represent the Arts & Humanities Council of Tulsa in the sale of this significant property. The McGraw family has a close relationship with Tulsa's history and we are about to enter our eightieth year of real estate in our community"2
Indeed, our roots run deep in Tulsa's history, and our company is only 15 years younger than this iconic property. Listing the home was an honor, and when the deal was finally struck with Teresa Knox, Tulsa won big! Knox, who also owns the Church Studio at 304 S Trenton Ave, is a lifelong Tulsan with a passion to see its history preserved and restored. Following the early summer purchase, it was announced in September of last year that Harwelden would be the site of the 2019 Designer Showcase.
"A home that is staged and put together well gives people the ability to see themselves in a space that they currently don't call home."
Designing Harwelden
We stopped by Harwelden early last week to tour the property and sit down with Sue Ann Blair to talk about the Tulsa Designer Showcase. This year, she is the Designer Showcase Director, but she has been involved with the fundraiser for almost a decade serving most recently as the showcase chair. Sue Ann also happens to be a real estate agent with McGraw so we were very excited for our short Q/A.
Trey: What is the Designer Showcase and what does it benefit?
Sue Ann: The Designer Showcase is a project that is Tulsa Public Schools' biggest fundraiser. We take a house that is at least 5,000 SqFt and have different designers bring in their ideas to each unique space in the property, and then let them bring those ideas to life.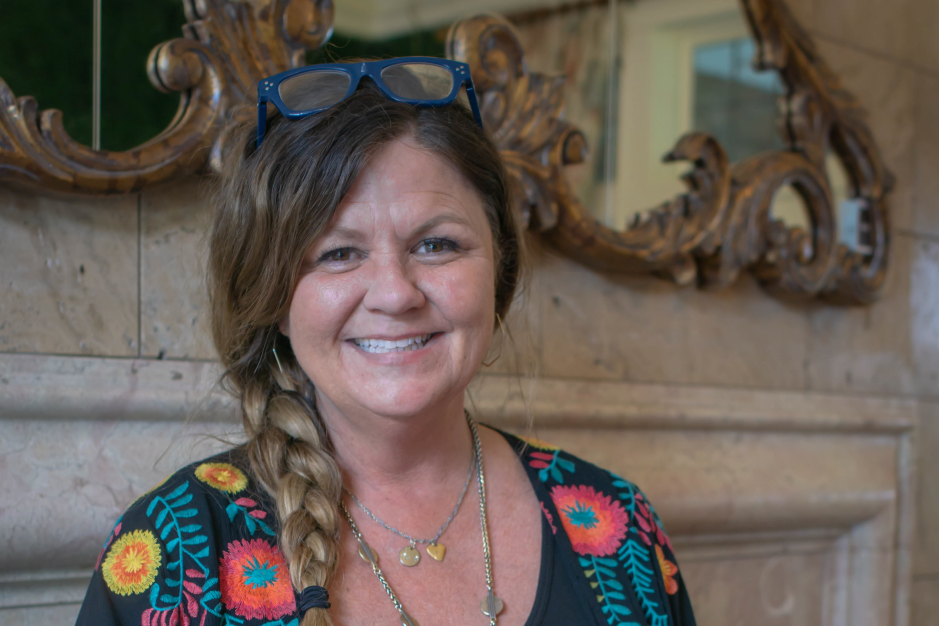 What makes this year different is the location. Instead of the Designer Showcase, I feel like this has been more like, 'Designing Harwelden.' This year has been more of a collaboration with the homeowners, in fact Teresa is here right now!
T: How are you involved with the showcase?
S: This year I am serving as the director of the project. The last eight years I have been chairman, which is really just running the event when it is open to the public. However, this year I have been in charge of the whole process, kind of like the head coach of the fundraiser.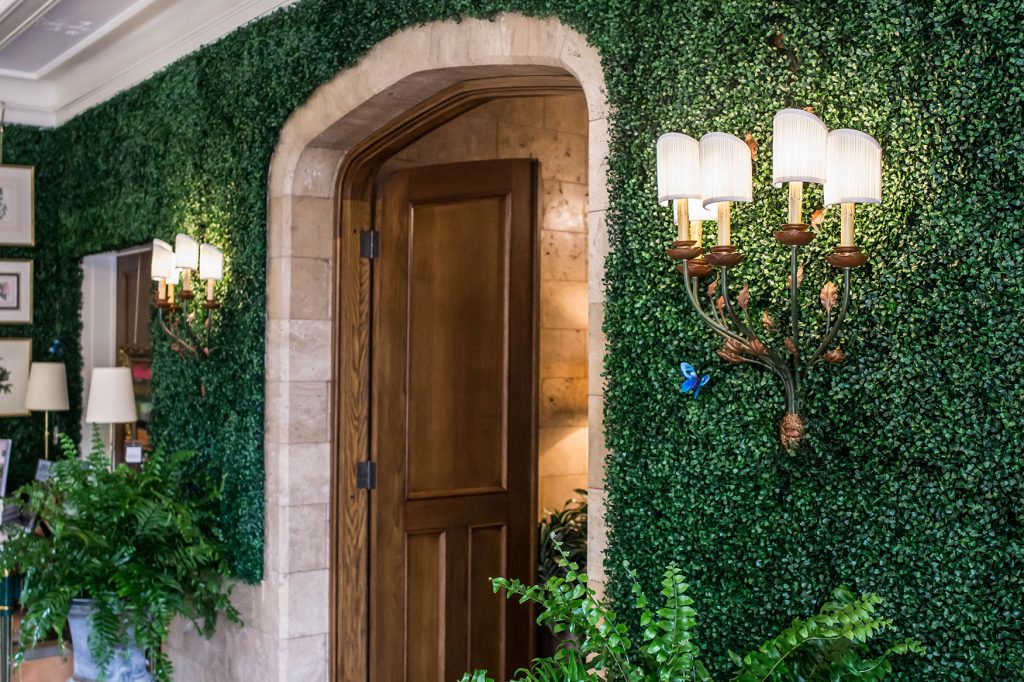 T: What is the significance of the Harwelden being the site for this year's showcase?
S: For most of its existence, this has been a really public venue for weddings and events, it housed offices for the Arts and Humanities Council, and a lot of Tulsans are familiar with the property and have been here at some point.
Because of that, I think a lot of people who wouldn't typically come to the showcase will be excited to come and see the new life that has been breathed into this historic space. On top of that Teresa Knox, who purchased the property has been really involved with promoting education throughout her life, and is really into restoring and preserving history in places like Harwelden.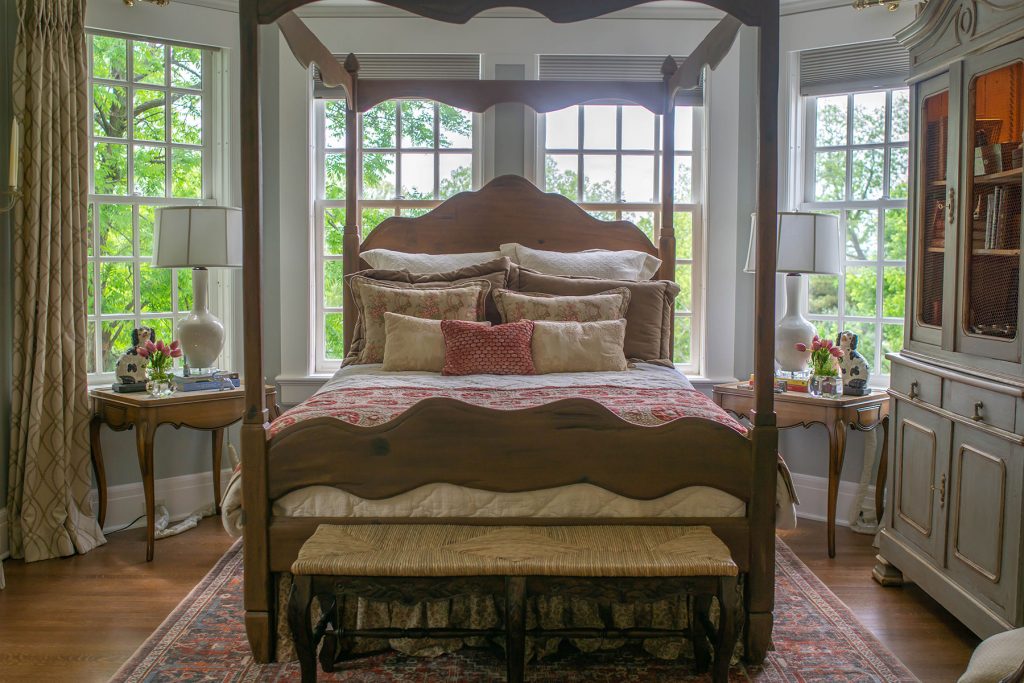 T: Obviously, we are in the real estate business, and this last question has more to do with design and selling a home. Why would having insight into interior design be a benefit for clients looking to sell a home?
S: I feel like agents and their clients having insight into what makes a well designed and staged home is key to marketing their home to potential buyers. A home that is staged and put together well gives people the ability to see themselves in a space that they currently don't call home.
It takes a lot of inspiration and vision to see through someone else's furniture and decor, and so knowing how to best set the stage when listing, having those potential buyers in mind, is a huge thing. An agent with a design eye can also help their clients see past some of the more lackluster features of an otherwise great home, and capture a vision for what it could be someday.
Re-Making History
As we left the Grooms Room, this amazing little waiting area with a mini bar and vinyl from the Church Studio tucked behind a false wall, we were able to see first hand the work that has gone into restoring this amazing home. Every room has been meticulously cared for, with a unique flair from each designer, yet has retained the historic charm that the Harwelden has been known for.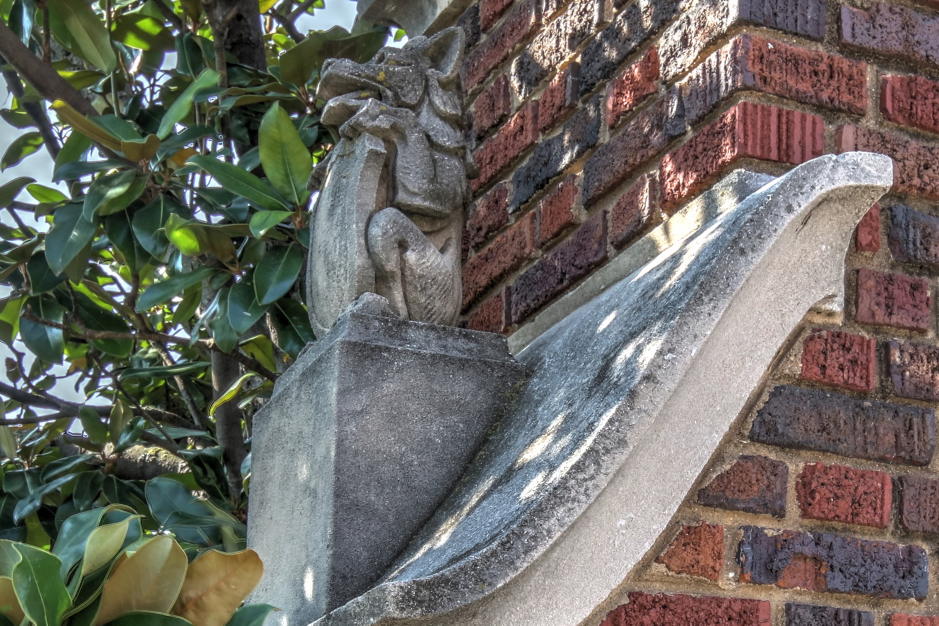 The staircase to the third floor is short but steep, and we paused to admire the beauty (as well as catch our breath) on the landing. Just outside the doors, across the rooftop veranda, sits this small stone gargoyle. He is perched on the chimney just like he has been for nearly a century now, watching the changing city ebb and flow before his stone eyes. He has seen so much change, but he is still securely fastened to this ledge. Thankfully, for many more years to come.
The Designer Showcase is a more than two-week-long event stretching from May 2-19. You can find more details about the event on their website, as well as purchase tickets for the event.
The Harwelden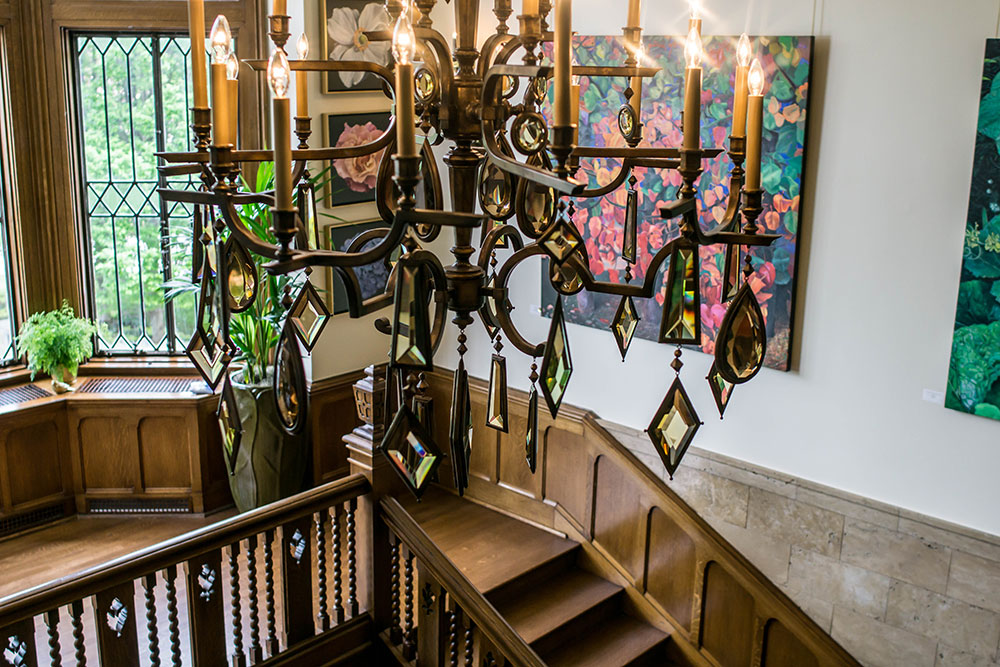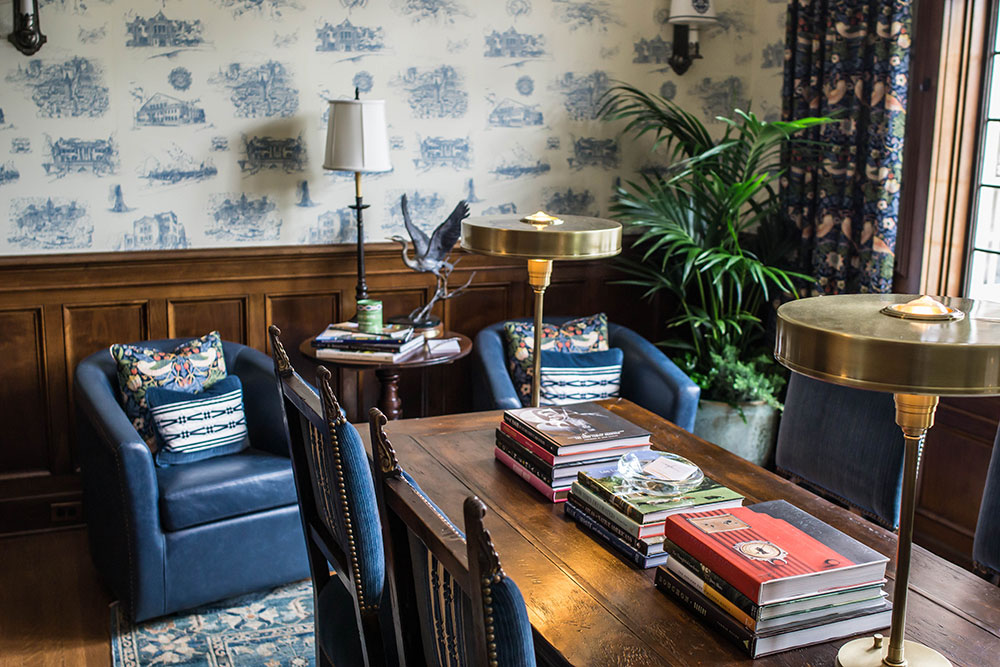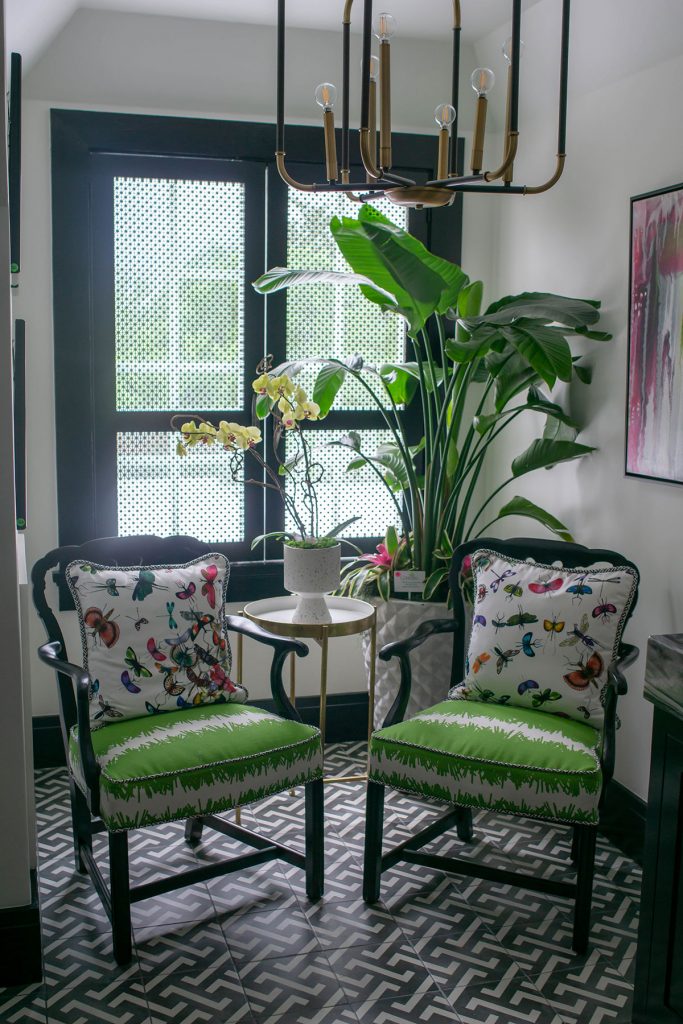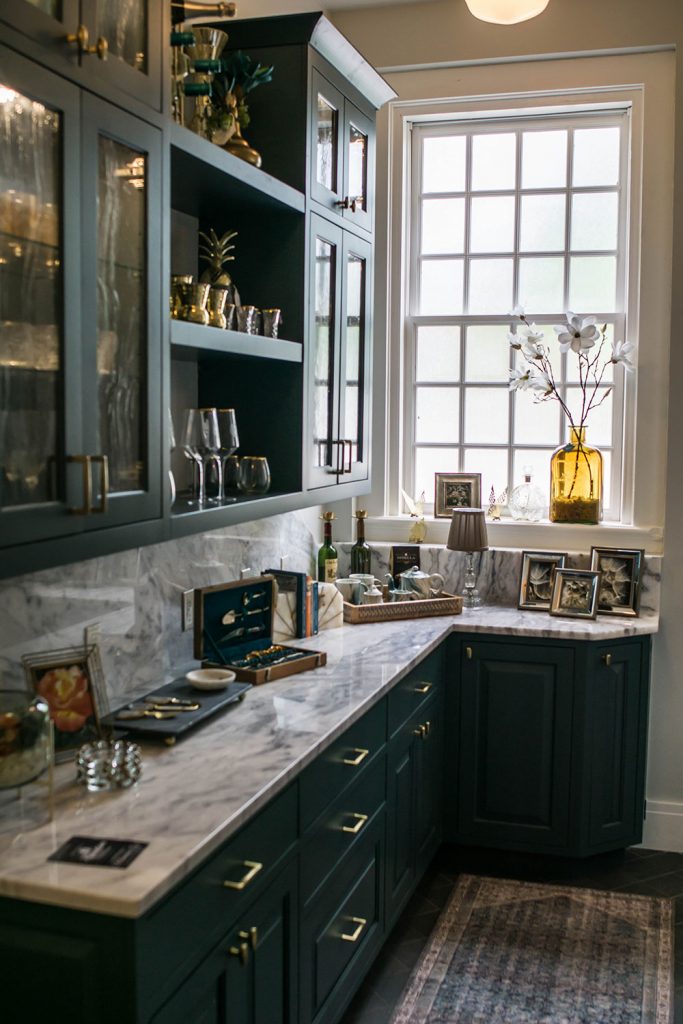 Written by Trey Hopkins
1 "About Us." Harwelden Mansion, www.harweldenmansion.com/about-us/.
2 Quoted from McGraw REALTORS® 2017 Facebook post.